The Greater Boston Chapter will be hitting our 100th anniversary on October 2, 2024.  Recognizing that this is just a few years away, the chapter will be starting the planning process for a large event to mark this important milestone.  The 50th "Golden Anniversary" for the chapter was held back in 1974 at the Chateau de Ville in Framingham MA and the 75th Diamond Anniversary celebration was held in May 2000 at the Museum of Science in Boston.
We intend to carry on our tradition of celebrating safety for the chapter members and are interested in getting members to provide ideas on desires on what to do and where to hold our next milestone – celebrating a proud 100 years! Are you interested in contributing to our planning efforts?  We welcome your thoughts and ideas on how to honor our achievements over the past 100 years!  Please contact either Dave Crowley at dave.crowley@hphood.com, cell 617-877-2062 or John Spath at aqcspath@msn.com, cell 646-872-4570.
Read More
On Thursday, May 5, 2022 the Greater Boston Chapter met with Massachusetts Senator Walter Timility, sponsor of the resolution commending the Greater Boston Chapter of the American Society of Safety Professionals on their recognition of North American Occupational Safety and Health Week and Occupational Safety and Health Professionals day.
Senator Timility is a steadfast supporter of our initiative to further the awareness of our noble profession and mission to see every worker return home safe and healthy at the end of each workday. The Senator graciously introduced us to his peers as the resolution was read into the official record in the 192nd General Court of the Commonwealth.
Special thanks goes out to Hannah Buntich, Chief of Staff and our own Tom Rich who leads this initiative for the Greater Boston Chapter each year.  Hannah is a fantastic partner for the chapter and understands the need to promote our mission.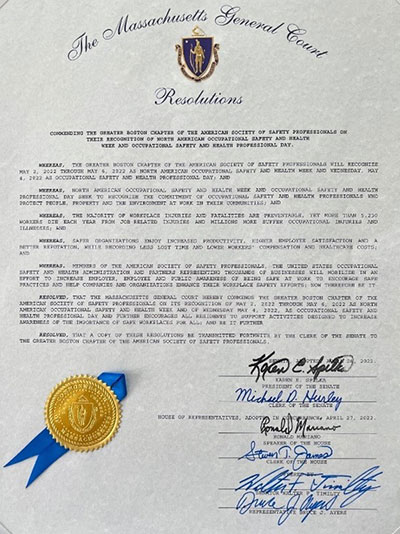 The WISE Mentoring program successfully connects today's most talented and experienced women mentors with rising and aspiring mentees. This pairing is designed to encourage and empower mentees to more effectively advance their careers through alignment with identified business objective, skill development, career option consideration, and network formation. All discussions are strictly confidential between the two parties. If you are an SH&E practitioner seeking to chart a successful career path or a seasoned pro eager to share experiences and insight, please visit the ASSP WISE website for more information.